EXECUTE SUCCESSFULLY.
Execute a successful GTM strategy
.
Utilize SalesIntel's company and contact data to elevate your strategies and build your pipeline.
Accuracy you can depend on.
SalesIntel's 95% accurate B2B contact and company data is coupled with additional features that make prospecting easy and helps you close deals faster. We give you the insights and capabilities that you can rely on to maximize your marketing ROI and accelerate your sales revenue.
Prospect efficiently
Find key decision makers with ease
.
With tools like RevDriver, our free Chrome extension, you can eliminate wasted time by automatically retrieving human-verified contact data, including direct dial numbers and email addresses, all within the convenience of your browser tab.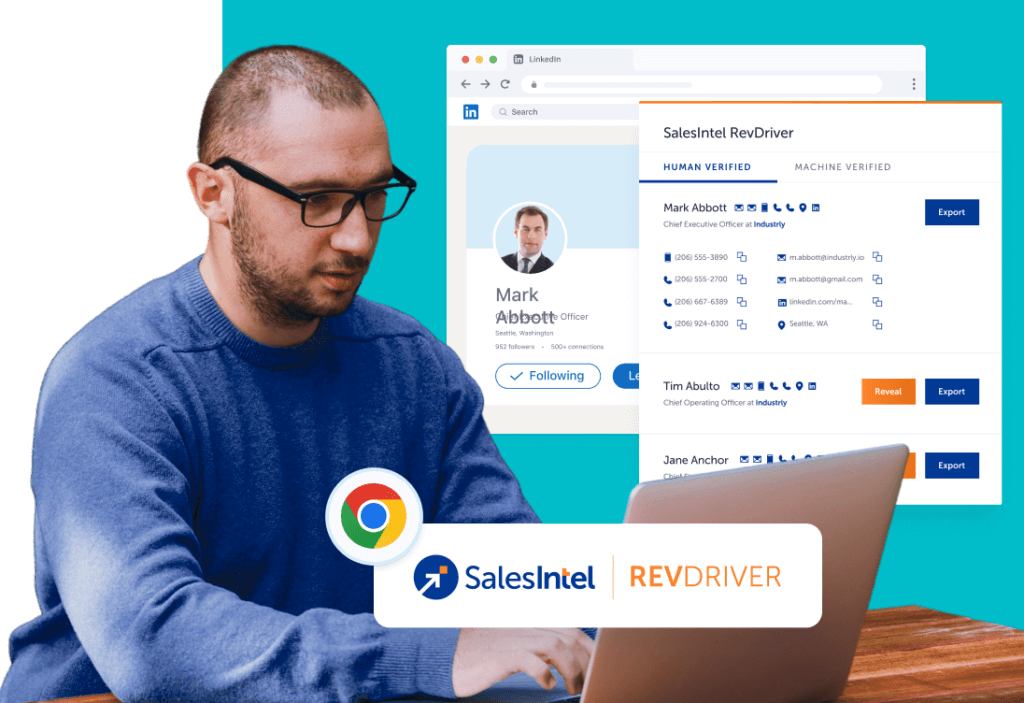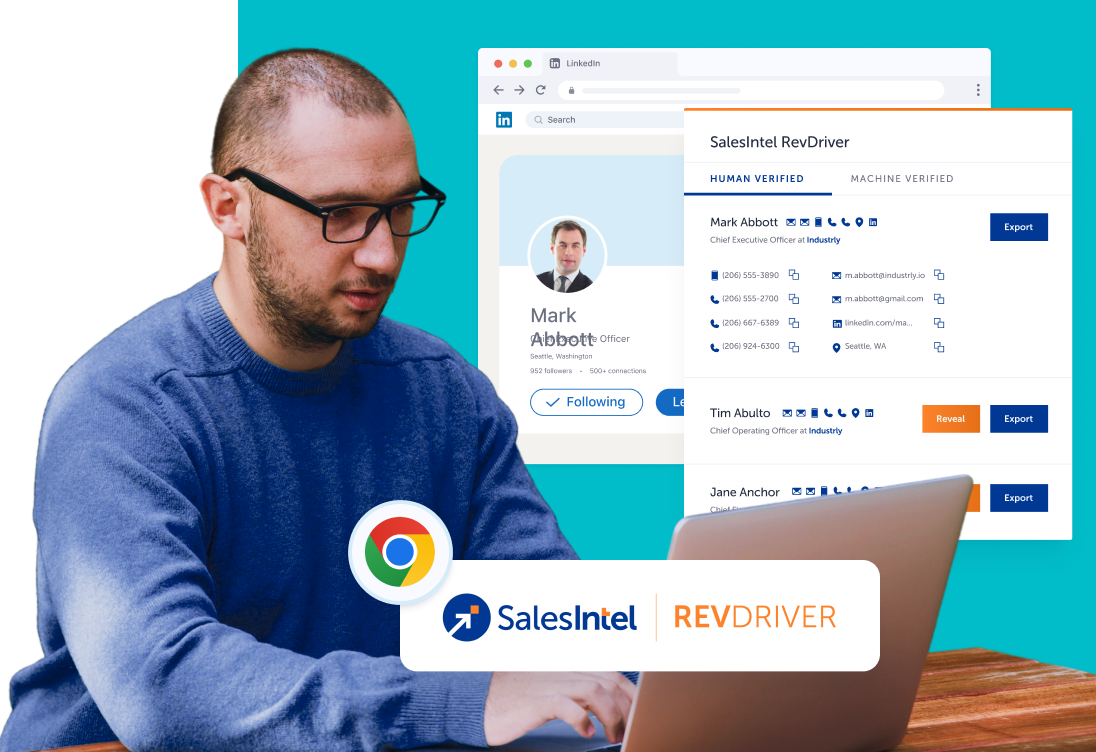 Target your advertising
Customize your audience
.
Utilize the features of VisitorIntel to identify anonymous visitors who left your website without taking action. Combine this insight with your ideal customer profile and buyer personas so you can create a list of target accounts who are actively looking to buy products and services like yours.
Fill data gaps on demand
The data you need, when you need it
.
Prospects with incomplete records impact your ability to contact them. SalesIntel provides full, verified contact details like email, mobile number, title, and more. If we don't have the info, our research on-demand team will find it for you in a flash.
Leverage intent data for ABM
Supercharge your campaigns with buyer intent
.
By combining Account-Based Marketing (ABM) and intent data, you can influence buyers early and address their pain points during the buying process. SalesIntel can provide you with greater awareness of buyer interest and behaviors in real-time, so your team members are better prepared to engage key stakeholders and win over target accounts.
Automate your sales & marketing stack
Data that's with you anytime, anywhere
.
Access human-verified contact and company data instantly thanks to our integrations with leading CRMs, email marketing systems and more. No need to worry about copy and paste or exporting and then uploading spreadsheets. Your data can automatically appear where you need it.
We couldn't live without SalesIntel.
"[SalesIntel is] core to our outbound efforts. It reduces the time to pull data and execute a campaign. It's got a significantly better ROI than buying a vertical-specific list. The data is refreshed and scrubbed frequently to reduce any potential friction from bounces or spam traps."
Koosha Araghi
Director of Marketing at UpCurve Cloud
SalesIntel is a game changer.
"Our highly targeted approach needs accurate data. With SalesIntel, the data is pretty accurate, and mobile phone numbers are gold."
Andy Redick
Director of Business Development – Western Region at Peak Power Inc